Enterprise Secure File Sharing of Cloud Object Storage
Share and Collaborate Cloud Object Storage such as AWS S3, Google Cloud Storage, DigitalOcean Spaces, Azure Blobs, MinIO, etc in a most simplified way.
Supports a variety of authentication options while sharing files such as Federated SSO (SAML2), Basic, Form, and OTP based.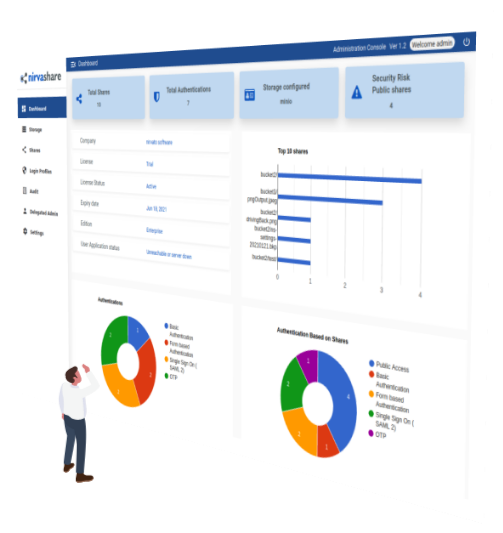 A simplified secure enterprise level file sharing solution on top of your existing object storage such as  AWS S3, Google Cloud Storage, Azure Blob, DigitalOcean space, Linode objects, E2E Cloud, etc. Share and collaborate files with your customers, employees, partners, vendors, etc with fine access control and security in place.
Easy integration with any of your existing identity providers such as Active Directory, GSuite, AWS SSO, KeyCloak, etc.
At times, when external identities such as customers, partners, etc who are not part of your organization identity store do bring up a challenge in sharing and collaborating files securely. This is where NirvaShare can take care of dealing with access, security and compliance while sharing cloud storage files with external users.
Partnered with cloud marketplace for easy deployment.
Turn Your Cloud Object Storage to a File Share Server
Book a demo, we will be happy to walk you through the product.
SAML2 Compliant And Multiple Authentication
Supports authentication like Form, Basic, OTP, and SAML Federation. Easily integrates with multiple identity providers such as AWS SSO, Azure Active Directory, Okta  Salesforce, G Suite, etc
Document Copy Protection​
Shared documents can be protected from the content being copied or redistributed. A unique feature that helps to make sure end-user only view or read the document without being able to download or copy the content.
Get a first-hand experience of NirvaShare offerings. We can provide quick access to our sandbox environment to test and experience the product before you make a purchase decision. To get access to a new instance from our multi-tenant cloud, please contact us here.
Light in Size and Cost
Our offering is the most cost-effective in the market. Uses microservice architecture for easy scaling from smaller to bigger stages.
Digital Signature and Copy Protection
Share documents with copy protection and document signing.

Compliance
Compliance is a key, audit every action, - who did what, when and from where for governance and security needs.

Branding
While sharing files, users see only what is shared to them with customer brand.
Security
Uses the highest industry standard cryptography and is SAML compliant. Encryption, access control, and IP white listing for better security.

Adoption to Cloud Environment
Dockerized images with easy deployment across cloud vendors such AWS, DigitalOcean, Linode, Heroku, etc
Integration
Can integrate with one or more Identity providers with a simple to-setup theme.

Simple and Easy to Use
Simplified user experience. Easy deployment with minimised system requirement.
Frequently Asked Questions
Most frequent questions and answers
How to share files to external users?​
External identity providers can be easily integrated while sharing files with external users. Alternatively, a simple form or OTP based authentication can also be used.
How to install NirvaShare?
NirvaShare can be installed in any of the cloud platforms or on-premise of your choice. Please refer to the Blogs.
What do FREE edition support?
The free edition supports file sharing across all types of storage but is limited to a number of shares and authentication profiles such as Basic, Form, and OTP-based.
Does it work only with Docker?
Presently, our installation document refers to the docker way of installation, but however you can also install on a non-docker environment, you can contact us for more detail.
Get 15 days trial license key to validate all features.
* No Credit Card Required